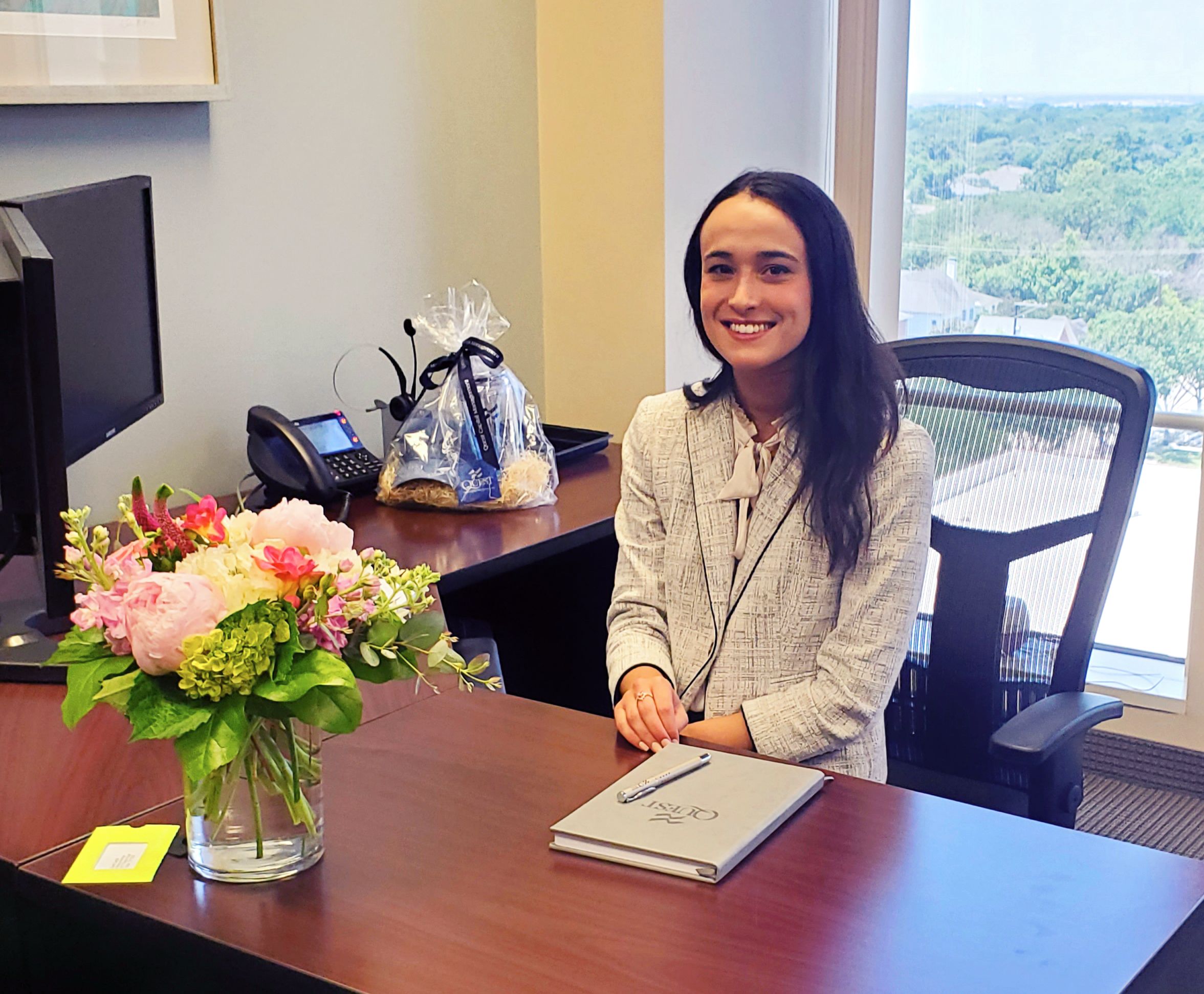 13 Aug

3 Tips to Get Your Foot in the Door: Advice from a Recent Grad and Top Financial Advisors

Ask Rebecca Wolman how she landed her first job at a wealth management firm right out of college and you'll get a story of intuition and persistence. When she graduated from Virginia Tech in the spring of 2021, she had no job lined up. In fact, she admits she'd put off looking until the frenzy of finals set in.

Job searching is a hot topic this summer as recent college grads deal with a unique job market and others leave their careers and search for a new beginning. We talked to Women's Leadership Alliance Vice President Margaret Starner and President Kalita Blessing, who both met and helped Rebecca on her journey to that first job.

You too can follow in Rebecca's footsteps. See how she did it and get some expert advice on taking your job hunt to the next level.

#1 Ask for advice

Talking to peers and people in financial advising to get a feeling for current trends, new requirements, and job leads may feel like an intuitive first step. The first step in job searching is to gather some intel. "As long as you're willing to kind of start doing something and taking some action", Rebecca says, "you'll be on the right track." She started with advisors and professors at Virginia Tech and then worked through connections they recommended. That meant reaching out and requesting informational phone calls and then asking for advice during those calls.

then → follow it!

Receiving good advice is one thing, but it won't have any impact unless you apply it. "You won't really get anywhere if you just listen," Rebecca says, remembering the adjustments she made after receiving some pertinent advice during an interview with Margaret Starner. Margaret recommended reading a few financial behavior books so that Rebecca could get a broader sense of her choices. "I think the first thing I did was add those books to my cart on Amazon Prime," Rebecca recalls. Doing the work, reading the books, ended up making all the difference in her job search process.

#2 Reach out

As a recent college grad, or someone who hasn't had to use a connection in some time, reaching out can be a daunting task. Rebecca knew reaching out to someone advanced in their career could be scary. "It's kind of nerve wracking when you realize how powerful these people are." It's important to remember these connections are an asset and people generally want to help.

Margaret was so impressed that Rebecca took her advice on reading seriously that she told her friend Kalita about the young job candidate. At the time, Margaret's firm wasn't hiring, but Kalita and her team at Quest Advisors had a position to fill. Kalita was glad to talk to Rebecca about her future. "I think of it as just paying it forward," Kalita adds, "someone cared enough to open a door for me".

then → do so intentionally!

Rebecca knew she had to prepare before she got on calls during her job search. "Really research what you're going to say before you reach out to them," Rebecca advises, "everyone has a different vision or a different communication style." Her research clearly paid off, because Margaret remembers how her eloquent writing and considerate responses painted her in a prepared and professional light.

#3 Find your path

If you aren't sure where to collect advice, how to connect, or even which direction you're headed, it's okay to look around. Sometimes inspiration comes in the unlikeliest of places. Rebecca remembers thinking, "I was kind of tricked into being a financial planner," after a professor talked to her class about his job and Rebecca was intrigued. But some of the ideas she developed in college about the career didn't line up with the reality she discovered in her interviews. "She had a number of misconceptions that are not unusual," Margaret says, "I think what I liked about it was that she was open when we were discussing it."

then → take steps to follow through!

Job searching is a non-linear process. Remember, not only are connections and opportunities unpredictable, but each step in the process is interconnected. One person may find it more valuable to reach out to a contact to figure out what their options are while another may figure out their intention before reaching out to a friend. The end goal is a fulfilling and rewarding job.

Though Rebecca's interview with Margaret didn't land her a job close to home in south Florida, it did lead to the connection with Kalita and a position in Dallas that started in June. She walked in to find flowers on her new desk and a team of financial advisors ready to introduce her to the field of financial planning.