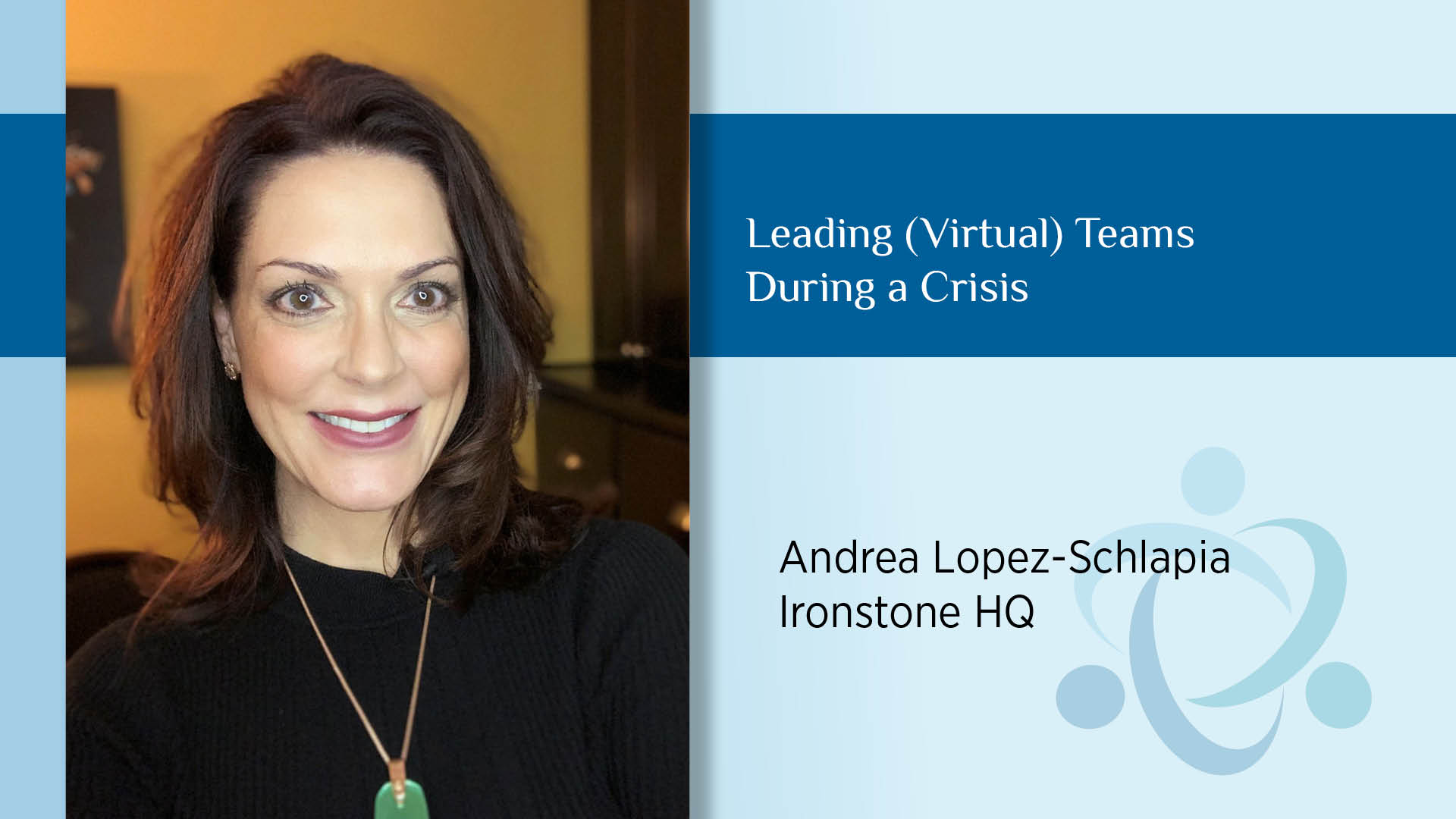 20 Apr

COVID-19 Survival Kit: Part 1 Crisis Leadership
---
Leading a remote team? That's tough enough.
Leading a remote team during a global pandemic while juggling other responsibilities? That's like changing a flat tire on a car speeding down the highway at 90 miles an hour.
But you don't have a choice. So how can you do it all?
We asked Andrea Lopez-Schlapia, the founder/CEO of Ironstone in Roswell, GA., for actionable advice on how to lead your staff, your clients and yourself through this unprecedented crisis.
Here are Andrea's Top 5 tips:
#1 Lead by Delegating
I always say, "Anyone can lead from their chair" — not just the business owner. Client services associates, interns and paraplanners can all lead at times. Don't be afraid to allow your staff to take ownership when appropriate.
Delegation can be one of the hardest parts for advisors who own their business. But these days, you can't have your eyes on everything the way you did before. Give some of the authority and decision-making power to those around you, while also setting clear boundaries, providing honest feedback, asking thought-provoking questions, and most of all, listening deeply.
#2 Virtual Tools Rule
For starters, you have to have the right tools in place. You need to determine what technology you're going to use, from your CRM to calendar scheduling to electronic signature file storage, password management, project management, time-tracking software…you name it.
How do you run a remote meeting via Zoom? How do we communicate effectively as a team when we don't have the luxury of walking into somebody's office like we used to do? The "normal" ways of working don't apply here.
#3 Routines Rock
This is where routines come in: if you need to get in your car, drive around the block and walk into your home office to start your day, do that. If you used to meet daily with your team, do a morning huddle via your web meeting to give structure to the day. Whatever works best. Obviously, this routine will be different for everybody.
But it's helpful to set boundaries throughout work hours, too. Take breaks, stretch, have lunch away from your desk in a different part of your home. Determine what time you're wrapping up for the day, and if it helps you disengage for the evening, reverse your morning routine at quitting time. Get up, drive your car around the block, and then back into your garage to signal that you're off duty.
#4 Share Spaces, Trade Places
If you have roommates, spouses or children in your remote "office," a timer can be a sanity-saver. You can say, "For the next hour, I need to have quiet time to work." Enlist your partner to watch the kids during that designated time frame, then trade off and help them when they need to focus on their job.
We all have to accept the fact that working from home is not going to be perfect. I saw a funny Facebook post where a Mom was sitting at the kitchen table, on her laptop with headphones on, and her child was duct-taped to the floor beside her. Not that I recommend that, but you have to have some levity about the situation.
Somebody's going to hear your dog or your kids and that's okay! It's what makes us human. And I would argue that if the person on the other end of that call or Zoom conference doesn't like that, is it really somebody you even want as a client? Because times like these are when we truly are all in this together. 
#5 Communicate the Changes
It's not enough to get your business up and running virtually. You need to let your clients know that this will be the "new normal" for the duration of the pandemic. By doing this, you will give them peace of mind that, "Even if we're working remotely, we're still here for you."
How much communication is too much? Some advisors are calling clients daily, which makes me wonder, "Is that your desire for such high frequency, or your client's?" Think about what your clients need right now. Ask them if you're not sure! Then adjust your contact accordingly.
By the way, you may need to adjust your content, too. Remember: we're all in uncharted territory. Clients may want to talk about their lives more than their financial plans. They may have just lost their job of 20 years, or they're trying to figure out how to home-school their kids, and they need you to be their sounding board.
Ask questions like, "How are you? What do you need? How often would you like us to communicate with you? Do you prefer phone calls, video meetings, email?" Deep listening helps establish your GPS with the client and demonstrates, "I really, truly hear you, so based on that, here's what I'm going to give you because it's what you need right now."
If you'd like more tools for remote work, download Andrea's Job Aid here.
Next: In Part 2 of our conversation, Andrea reveals how the global pandemic could change the way you do business.