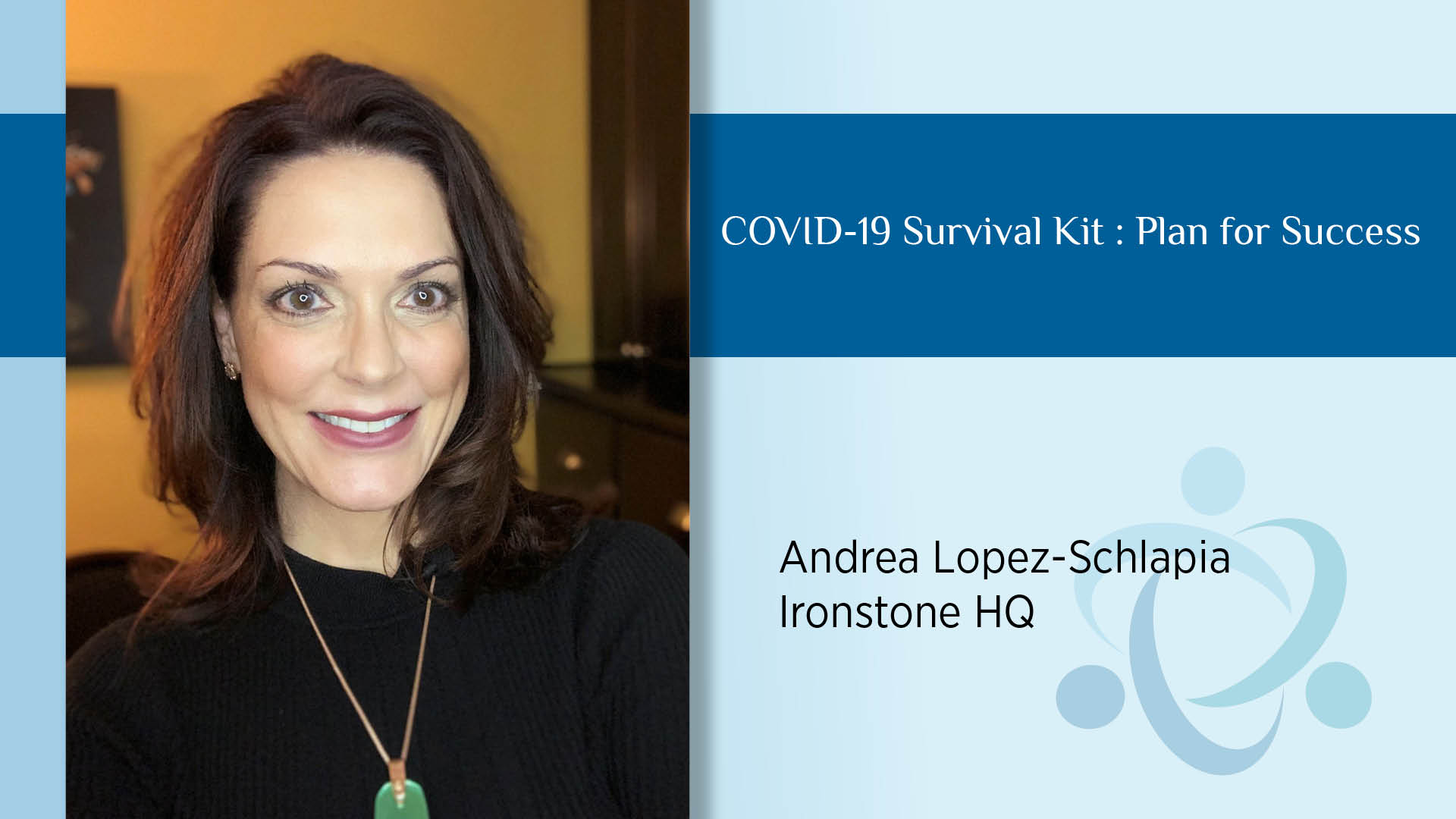 29 Apr

COVID-19 Survival Kit: Part 2 Plan for Success
---
Supermarket shelves picked clean of toilet paper. Times Square looking like a ghost town. Healthcare workers in hazmat suits. Millions of Americans in makeshift masks. These will be some of the enduring images of the COVID-19 emergency. Eventually, the coronavirus will be contained and the global threat will recede. But what will the future look like? We spoke with Ironstone founder/CEO Andrea Lopez-Schlapia about how businesses can find new opportunities for growth as the world slowly returns to "normal."
Essentials vs. Luxuries
We're about two weeks away from discovering everybody's real hair color! But just as salon appointments are currently a luxury, it's important to identify non-essential "luxuries" within your practice – in other words, assess the things you can just pump the brakes on right now because keeping your firm running is what's most important.
What to Cut & What to Keep
If nothing else, I think the pandemic is bound to make all of us more comfortable with remote work. It might even impact cost savings moving forward: Do you really need a brick-and-mortar office space? Can you work remotely, go to your clients, or just rent space when you need it, from companies like Office Evolution or Regus?
If so, you could reallocate those savings to buy high-quality webcams, microphones, stand-up desks or ergonomic office chairs.
I love this quote by Audrey Hepburn: "To plant a garden is to believe in tomorrow." What's happening right now won't last forever. But what will last is how you choose to interact with your coworkers, clients and family. That's what will truly determine what the post-COVID-19 future looks like.
Marketing Makeover?
 With so much uncertainty about when "normal life" can resume, business owners need to take a close look at non-essential costs: "Do we really need to do Facebook marketing right now? What do we need to change so we can work as efficiently as possible?"
One of the benefits of "auditing" what's essential is that you can shift non-essential dollars to things like video, which is a crucial source of information. Particularly during this era of self-isolation, people are watching more video, whether to get the latest updates on COVID-19 or to hear comforting messages from their advisors. But even after the global lockdown ends, video will continue to be an essential business expenditure.
Is video the right tool for your firm? Check out this fascinating infographic from VisualCapitalist.com. It breaks down how each generation – from Boomers to Gen Z – is consuming media differently during the pandemic.
The Big Picture
Whenever you can, I think it helps to look at your practice in a more clinical way. If you can, use this extended hiatus from "business as usual" to do more big-picture planning.
Ask yourself questions like, "What do we need to change? What can we put on the sidebar right now? We're not having any client events right now, so where can we shift those dollars?"
Review your master plan for staffing. Make sure you outline all of the responsibilities for each job description, broken down by daily, weekly, monthly, quarterly and yearly task lists. That way, you will be able to give employees absolute clarity on your expectations for each position.
For advisors looking even further ahead, ask your team, "From a succession-planning standpoint, do we have all of the continuity plans in place? Do we have a strategy on paper if worst-case scenarios happen? Do we have a clear path of what succession looks like?"
To kick-start your vision for the future, click on this link to my site, then scroll down to what I call "The Fundamental Four™ components of business success: Strategic Planning, Business Development, Operational Effectiveness and the Human Element.
Help is Here
The COVID-19 global pandemic is an unprecedented event that has disrupted all of our lives. Everything from healthcare systems to personal relationships are being stress-tested like never before.
In the meantime, if your firm needs financial assistance, don't hesitate to explore options like the SBA's Disaster Loan Assistance, Paycheck Protection Program and the CARES Act, which can help advisors and other small business owners ride out the storm.
Want to offer your help to the people who need it most? Click on this link to the Financial Planning Association® site, which is giving advisors the chance to assist underserved clients, such as low-income families, military personnel or veterans, domestic violence survivors, and people facing natural disasters, bankruptcy or other COVID-19-related issues.
Every day, we are being challenged in countless ways. But working together, we will get through this. And when it's over, we will emerge stronger than ever.
In Part 1 of our conversation with Ironstone founder/CEO Andrea Lopez-Schlapia, she outlined 5 key strategies that leaders can use to navigate the COVID-19 crisis. To read that article, click here.