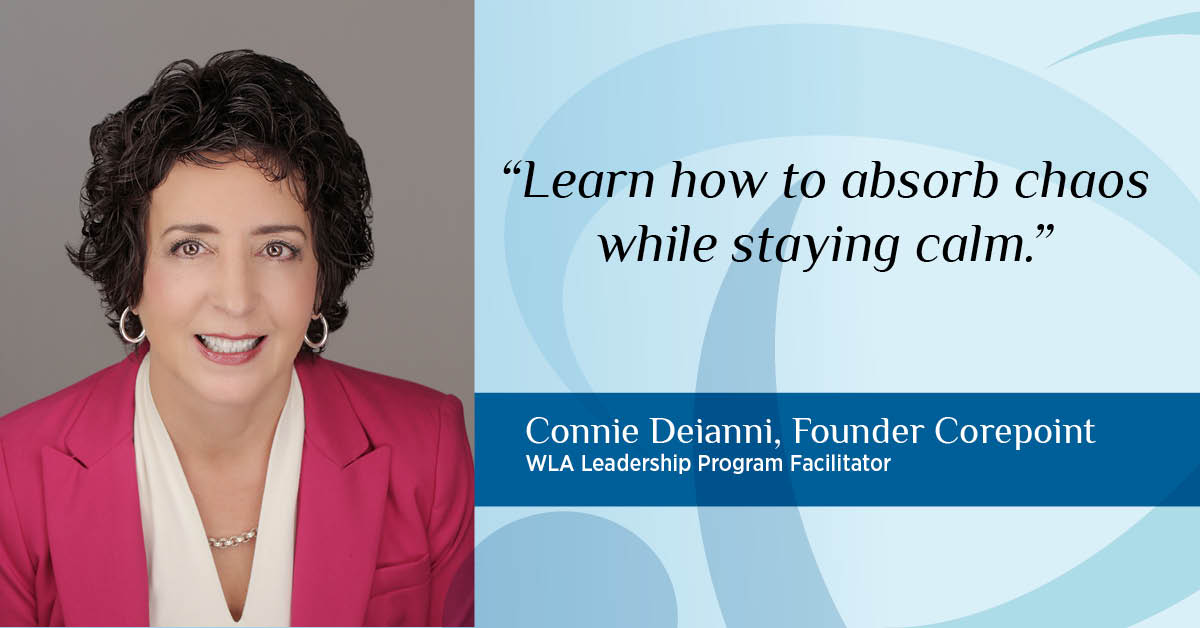 20 Mar

United We Stand
---
The coronavirus pandemic has disrupted virtually every aspect of daily life. For financial advisors, there's the added stressor of stock market volatility, which can rattle even the resolve of seasoned investors who have survived past bear markets.
How can advisors best help their clients, each other and themselves?
Yesterday, we sat down with Connie Deianni, founder of Corepoint in Salt Lake City and facilitator of our WLA Leadership Initiative mentorship program, to discuss coping strategies for turbulent times. We are so grateful that she took time out to talk: our conversation occurred just one day after a 5.9 earthquake struck Utah and Connie's doctor had her take a COVID-19 test after returning home from a coronavirus-interrupted cruise.
How to Help Clients
Keep calm and carry on.
That famous phrase – coined by the British during World War II – seems apt as the world battles a virulent virus that's rocked us physically, emotionally and financially.
Connie believes that advisors can comfort clients by using a soft skill: "Learn how to absorb chaos while staying calm. This applies to leaders managing employees or parents managing kids at home. By doing that, you inspire trust and regain a sense of control. Watch your tone of voice. Watch your non-verbal cues. Choose your words carefully. Give clear direction, but do some collaborative problem-solving: 'Okay, folks, how are we going to solve X problem?'"
Rather than focusing on financial advice, Connie explains that it's important to remind anxious clients to step away from work and news: "Get out of the house if possible. Take a long ride on a country road. See what's blooming. Work for a few hours, then do laundry or walk the dog. If you're home with kids, keep their school routines, but also team up for fun projects, like starting seeds indoors that the whole family can watch grow, which underscores the idea that life goes on and will get better."
How to Help Younger Advisors
To ease another's heartache is to forget one's own.
Those are wise words from Abraham Lincoln, a man who certainly knew his share of troubles. In that spirit, Connie suggests that veteran advisors, who've weathered previous downturns and recessions, share their wisdom with younger financial planners.
As Connie puts it, "Advisors can be vulnerable and support each other. Many have already established long-distance connections or mentorships, so they can reach out for support, questions, advice and information. But during this pandemic, change the questions to focus on self-care ideas. Mentors can also assure mentees that their relationship isn't on hold; in fact, there's no better time for a mentor and mentee to engage than right now."
"Not feeling alone is so important," Connie notes. "Be someone others can vent to. 'Listen hard' as one mentor recently told me. Empathize. Give people permission to say, 'Hey, I'm struggling.' Connect with colleagues through text, email, FaceTime, Zoom. Acknowledge that everyone is trying to manage 'the new normal' and that's okay."
What's more, Connie says mentors and advisors can find comfort in past crises: "Recalling difficult periods, like the 2008 crash or 9/11, can be helpful in fighting feelings of helplessness. Remembering how we recovered from those events can realistically set our expectations. This isn't going to be a quick fix. It's going to be a one-day-at-a-time thing."
How to Help Each Other
"A burden shared is half a burden," according to a Swedish proverb.
Even seasoned advisors can feel rattled by alarming headlines. That's why it makes sense to reach out to your friends and colleagues for support or even to just share a laugh. As more Americans adapt to working from home, Connie suggests checking out these articles for actionable tips on maintaining professional and emotional balance:
New York Times ("How to Work From Home If You've Never Done It Before")
Business Insider ("11 Tips for Managing Your Anxiety During the Coronavirus Pandemic")
Inc. Magazine ("23 Essential Tips for Working Remotely")
Self-Care is Key
Secure your own oxygen mask before assisting others.
Anyone who's ever flown on a commercial airline has heard that phrase, but in these extraordinary times, Connie contends that it applies to your well-being, too.
"It's especially important to give your body an outlet when you're under acute stress like this. Our brains still function like we're in survival mode out in the wilderness: they kick into fight-or-flight mode. But since we can't flee the coronavirus, we don't have that big release of energy, so we stew in cortisol. Do jumping jacks, push-ups or take walks to let your brain relax."
Parents may also discover that now is a good time "to break out that box of old family photos. Reminisce, talk with your kids about the people in the pictures." Bonus points if the photos spark discussions about how 'Grandma went through a tough time during World War II, but eventually, things got better, just as they will for us.'"
Bridge Over Troubled Waters
This, too shall pass.
In the midst of a hurricane, it's hard to believe the sun will shine again. But life is – by definition – always changing. Hopefully, this pandemic will soon be a distant memory instead of a daily concern. For now, keep your focus on what you can control. Connect with colleagues. Take breaks from work and news reports. Practice healthy self-care. We can and we will get through this global crisis… together.
A few hours after we posted this article, Connie alerted us that her test results came back negative for COVID-19. We couldn't be happier to share this good news with you!