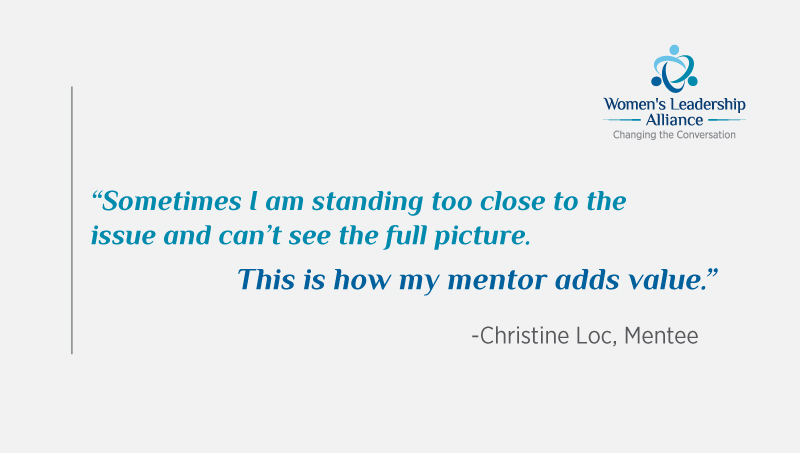 21 Jan

WLA Leadership Program Update – January 2019

"Dream small," said no one ever. 

            We all want to thrive in our professional lives, but how do we get there? Like the best friend who pushes you to step outside your comfort zone, or the coach who tweaks your tennis swing, mentors can play a pivotal role in a successful career – and that's exactly why we started the WLA Leadership Initiative Program.

            Now halfway through the second round of this leadership initiative, program facilitator Connie Deianni reports great strides are being made by mentors and mentees alike.

            "When I first met the participants during training, I was impressed by the caliber, tenure and enthusiasm of the talent in the room," says Deianni, the founder of Corepoint,HQ an employee engagement consultancy in Salt Lake City. "What we heard and experienced in our first feedback calls has confirmed this early impression, and subsequent monthly calls continue to deliver an even richer level of engagement with all 18 participants." 

            Adds Deianni, "I am impressed with the willingness of the mentees to step up and help each other by sharing information, ideas and resources during the feedback calls. They don't hesitate to offer a lending hand to someone who is needing support."

            Just 30 days into the program, mentee Tanya Nichols is already a believer: "I just wrapped up my first call with my mentor. It really is more than I expected it to be." Fellow mentee Christine Loc, at the 60-day mark, commented on the benefits she has reaped thus far. "Sometimes I am standing too close to the issue and can't see the full picture. This is how my mentor adds value."

            For volunteer mentors Aimee Boggs and Darcie Guerin, mentoring involves sharing the wisdom of personal experience. As Aimee puts it, "Not knowing the answer to a client question is an opportunity to show people that you have the ability to follow up," while Darcie explains, "Many of the suggestions I share with my mentee revolve around having patience while continuing to diligently work on increasing her confidence levels." 

            Want to learn more about the WLA Leadership Program? Click here.

            To donate, click here.