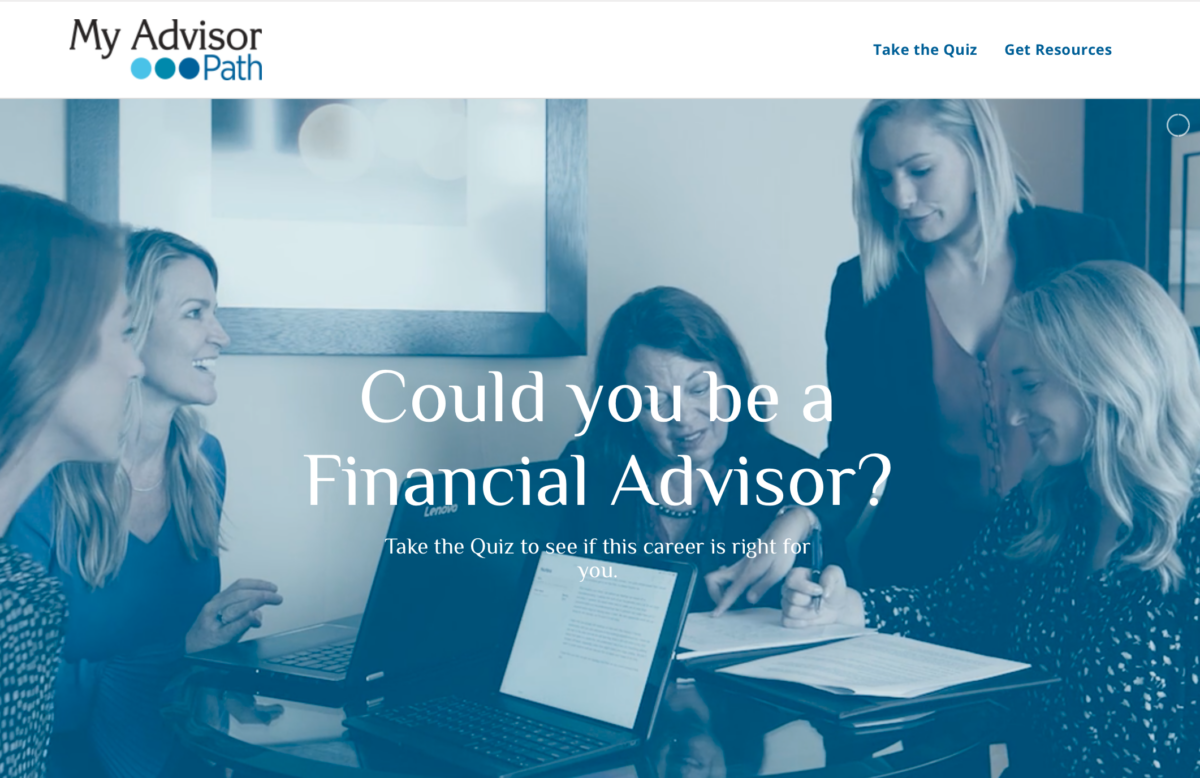 10 Feb

Women's Leadership Alliance Launches New Website, MyAdvisorPath.com
---
Step-by-step insights and resources for women seeking careers in the financial advisory profession
 JACKSONVILLE BEACH, FL –  The Women's Leadership Alliance (WLA) introduces a valuable new online tool for young women and mid-career changers, MyAdvisorPath.com. This comprehensive website is designed to help women discern whether a career in financial planning is right for them.
The site features two sections. First: "Take the Quiz," which walks women through a series of questions pertaining to their career goals, whether they're current college students, recent graduates or working in other careers, but contemplating a change. The section also offers inspiring embedded video stories of career changers and mentors. Second: "Get Resources," a "one-stop shop" of information with links to articles on educational requirements, scholarships, advisor certifications, job listings, hints on building an effective LinkedIn profile, preparing for interviews and more.
MyAdvisorPath.com is just the latest innovative offering from the WLA, which is dedicated to growing the ranks of female advisors, who currently comprise just 16% of financial planners.
Women's Leadership Alliance Executive Director Michelle Danielson explains, "At the WLA, we are focused on welcoming more women into the financial planning profession by creating awareness around the unique value they bring to the business. Our goal with this website is to provide clear, comprehensive resources that allow women to explore careers as financial advisors. With myadvisorpath.com, we can deliver useful information and objective, real-life perspectives on the meaningful impact financial planners can have on their clients' lives, as well as their own."
One of the WLA's Founders, board member, Mary Carter agrees, adding, "The financial services profession holds amazing opportunities for women, but entering the field has traditionally seemed like a vast and confusing maze. By building a deep and rich website, the WLA is working to provide a pathway – a career track that can open doors otherwise not known or undiscovered."
The Women's Leadership Alliance (WLA) is a 501(c)(3) nonprofit organization founded by a group of high-achieving female financial planning professionals from around the country. The alliance provides education and support for women interested in pursuing a career in the financial planning industry. We concentrate on changing the conversation regarding women and the field of financial advisory services and strive to significantly increase the ranks of women within this dynamic and meaningful profession. For more information, visit www.womensleadalliance.org or call Michelle Danielson at (813) 789-3449.